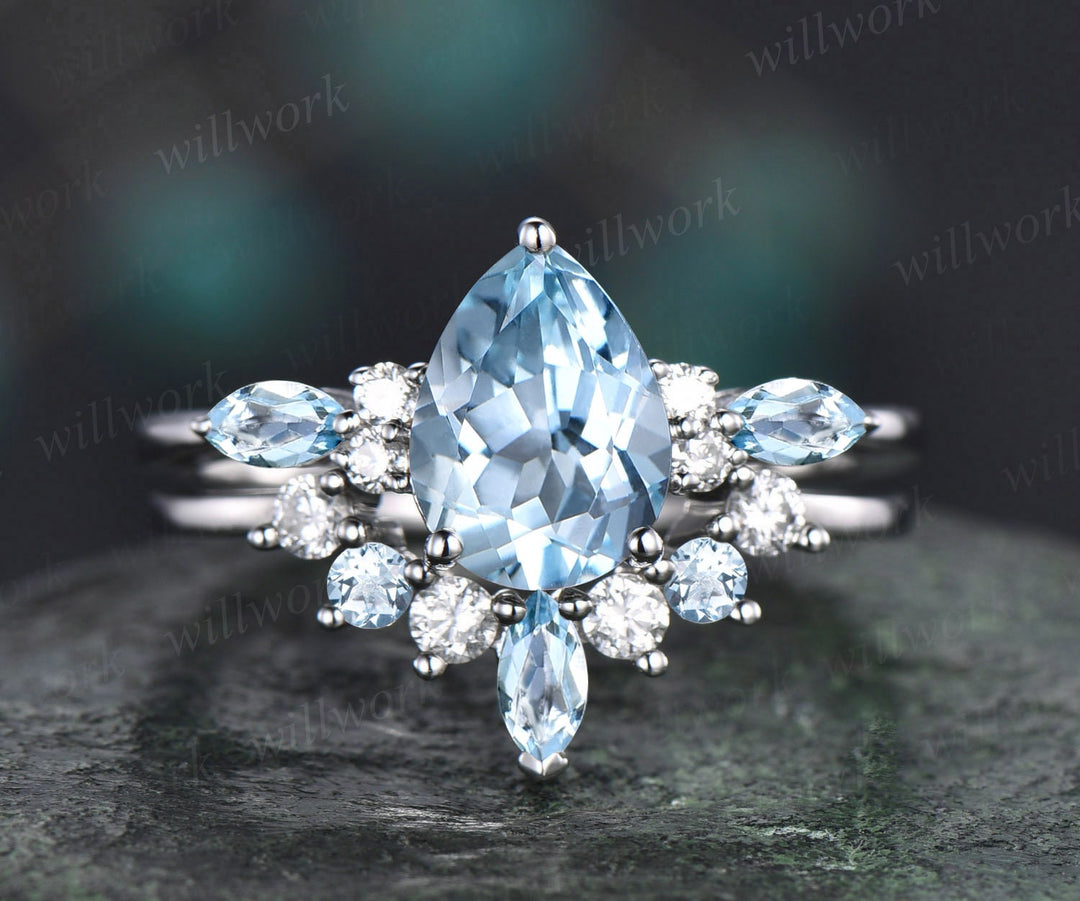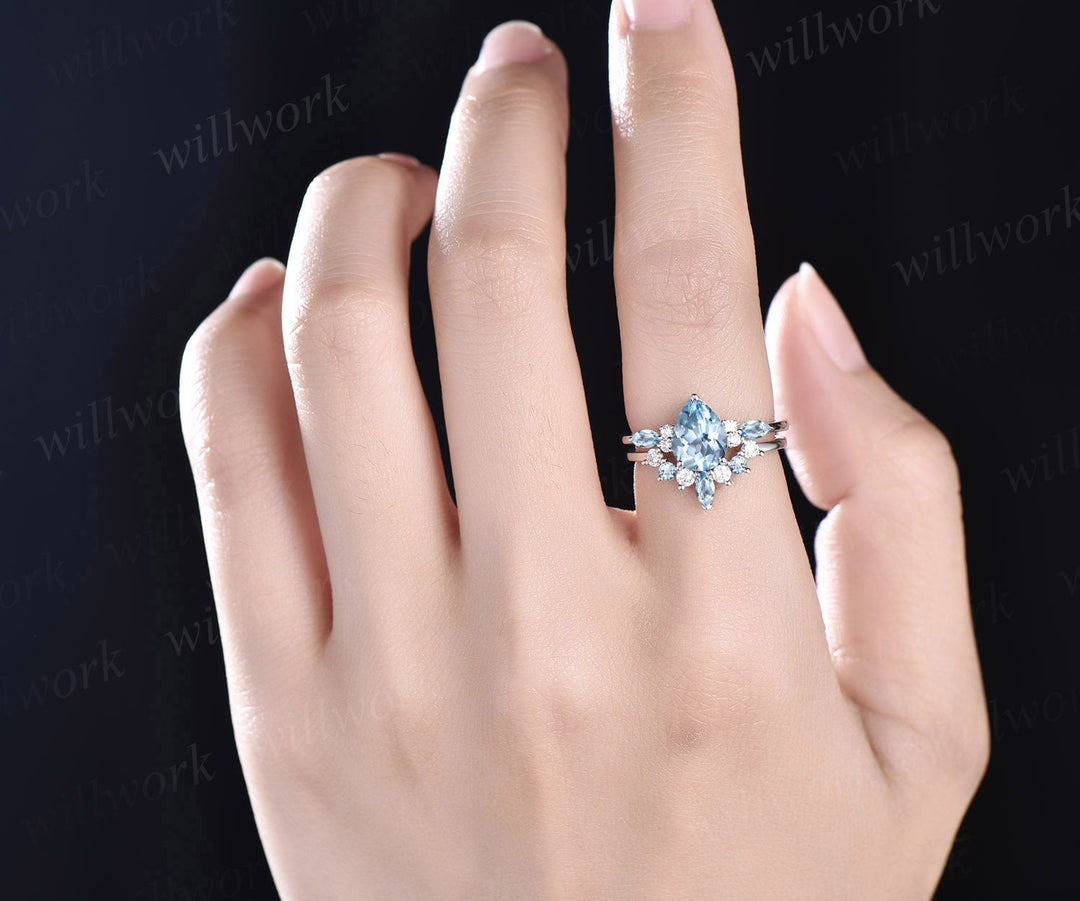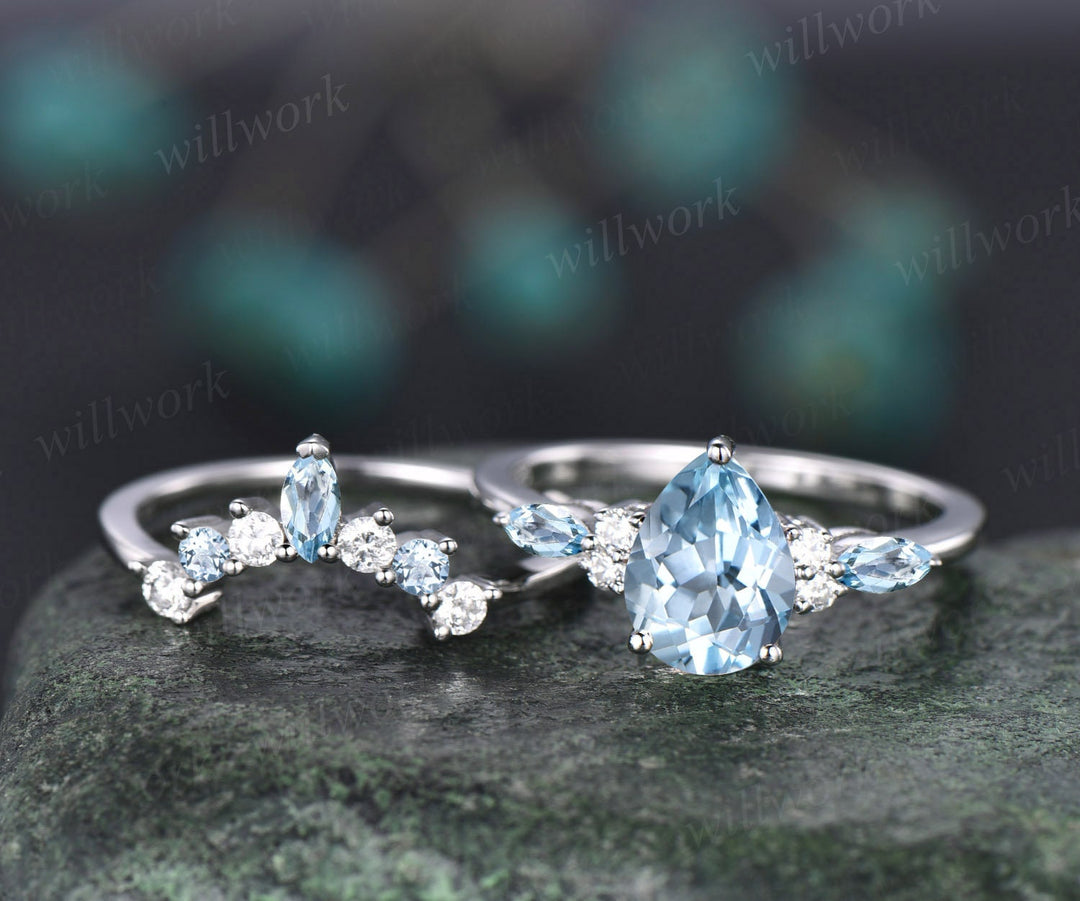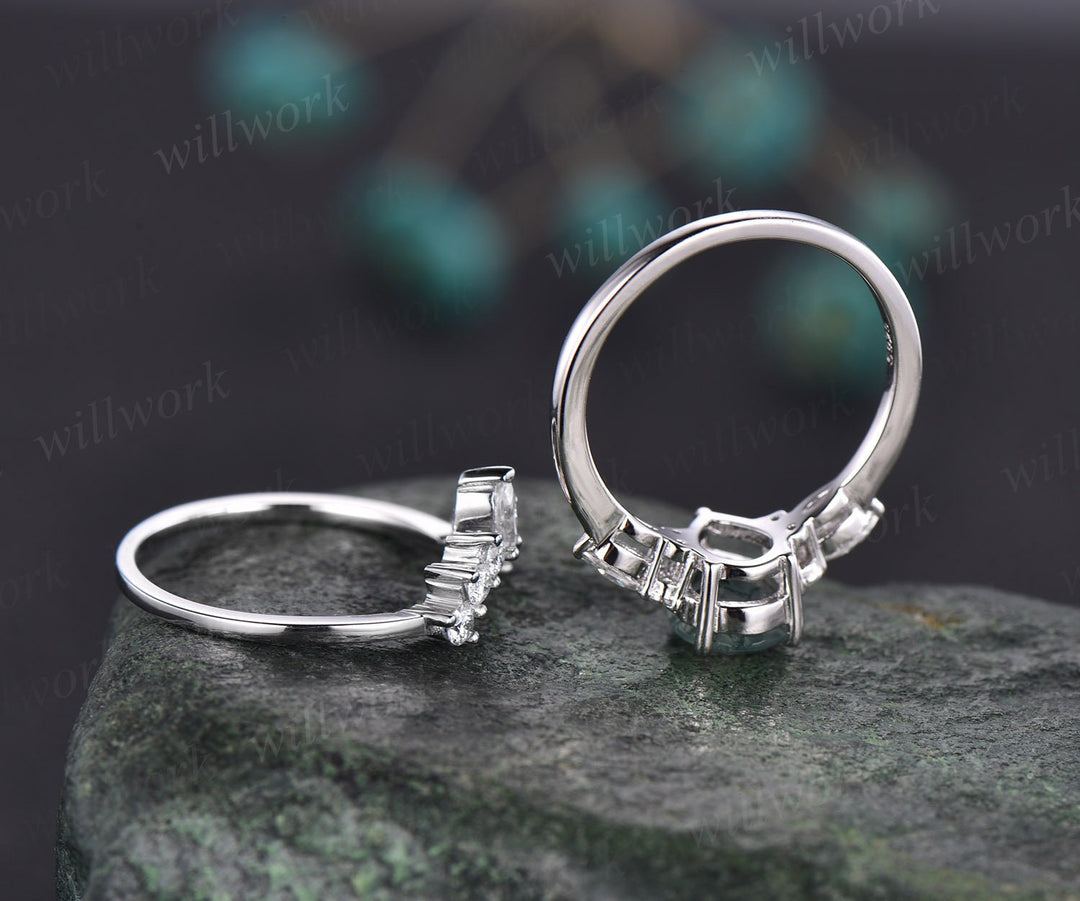 Pear shaped aquamarine engagement ring set solid 14k white gold marquise cut aquamarine ring for women moissanite ring bridal set jewelry
Ring purchase scores 20% off earrings or necklaces in one order
Handmade fine gemstone ring.
The main stone is a 6x8mm pear cut natural aquamarine.
The accent stones are round 1.5mm moissanites and marquise cut 2x4mm aquamarines.
The wedding band stones are round 2mm moissanites,round 2mm aquamarines and marquise 2x4mm aquamarines.
The band width is about 1.4mm.
The default material is solid 14k gold(white,yellow,rose gold available)
Ring size can be choose from the selection box.
Thanks for your visiting!
Made for you is better than made for masses.
Quality takes time but it is worth to wait!
Shipping:
Free shipping in Local USA and we ship to all over the world.
Beautiful free gift box included.
Signature is required for all the solid gold jewelries. Phone number is needed when shipping abroad.
All our items are made to order.
Delivery Time= Processing Time + Shipping Time
Normal Order : 14-28 business days to process and 5-8 business days for arrival.
Rush Order : 5-10 business days to process and 2-4 business days for arrival.
Custom Order : About 3-5 weeks to process and 5-8 business days for arrival.
Rush Order:
Rush order is applicable to solid GOLD jewelry, the process time is 5-10 business days. The total delivery time is 2-3 weeks. You can purchase it by this link. Please contact us first if your deadline is less than 18 days. All rush orders are subject to a rush order fee + fastest shipping method. Rush Orders are NON REFUNDABLE. 
 Shipping Options
Estimated Delivery Time
Price
Usps carriers

 Economy

5-8 business days
Free
First class
 

Standard

3-4 business days

$19.95

Priority

 Express

1-2 business days

$38.00

Overnight

International

5-8 business days

$80

FedEx or DHL
International Customs and import taxes
NOTE: Please be aware that free shipping is only available for orders shipping to the USA ; orders shipping to other countries are subject to the customs and taxes of those countries, which will be paid directly by the customer. At this time, we do not offer free shipping that is exempt from customs or taxes for orders shipping to countries other than the USA.
Shipping FAQ:
Will you update me with tracking number and is there insurance?
All orders are shipping with full insurance and tracking number. Once the order is shipped, we will update you with tracking number for the package. Please note that it might take few hours for the tracking numbers to work in the shipping company website. All jewelry orders shipped via Willwork Jewelry comes with full insurance. In a rare case if anything happens to your package, your purchase is completely safe as it is insured.
How will my order be shipped?
All Willwork Jewelry US orders are shipped via USPS, and FedEx or DHL for other countries. (Postal Service). Once the order is shipped, we will update you with tracking number and you can track your order online
Every jewelry in our store is handmade. We can do any custom order you want. Please contact us at
contact@willworkjewelry.com
for all inquiries regarding custom work.
If you want to see the existing jewelries please visit
All
.  
Basic custom making:
Gemstone replacing. Any gemstones in the ring can be replaced with others.
Bigger or smaller ring size(smaller than US size 3 or larger than 10).
Metal is not in the list(we can do platinum, solid 9k,10k,14k,18k white/rose/yellow gold or 925 sterling silver).
Engraving.(Link:Engraving service )
Payment Plan (We offer payment in up to 5 installments, the minimum amount is $100 USD) .
Special Stone Selecting Service. (Link: Stone picking )
Rush Order. (Available for Gold rings, Link: Rush order service )
Advanced custom design/making
1, Tell us what you had in mind for your custom pieces.
2, We will make a 3D design(CAD) to get your confirmation, the CAD fee is about $80 USD.
3, We will put the ring in production.
4, The finished ring photo will be sent to you to get final confirmation before sending.
5, Ring is ready to be shipped out.
The total process takes approximately 3-5 weeks.
You can contact us any time if you need updated information when the custom ring is being made.
Other:
We can also sell you loose gemstones or ring settings if you have this request.
How to Care for Normal Gemstone:
1,When cleaning the house, lifting heavy items, or participating in strenuous activities, remove your jewelry as it may be exposed to housecleaning products and high heat that may cause scratches and breaks.
2,Simply use warm (not hot) water with a mild soap to cleanse. You can even use a soft bristled brush if necessary. Then, dry with a soft cloth.
3, It is highly recommended that PROFESSIONAL cleaning of your pieces as often as once a year or depending on the frequency of jewelry wear. Examine your jewelry regularly as to make sure the settings are securely holding gemstones in place. Prong settings are especially delicate. If hit or snagged on clothing they may loosen. Damaged prongs can result in the loss of a stone or an entire piece of jewelry.

Special Care for Emerald:
The 1st step is the same as above.
2, The safest way to clean them is to soak loose stones (not all gems can be soaked) or jewelry in warm, soapy water and then gently clean with a soft brush. Dry with a soft cloth or air dry (not under strong or direct sunlight). Use only a mild soap if needed and avoid harsh cleaners, such as bleach or ammonia.
3, It may damage if it crash with some hard stuff. Even more it will be broken. So get avoid crashing the Emerald and keep it carefully. In addition, please be gently when you clean your gemstone.
4, Take off your Emerald ring before you take a shower, wash dishes,etc. Because if the Emerald get in touch with the acid-base, it will cause a chemical process and the color of the gemstone will be damaged.

Special Care for Moonstone:
Moonstone is a soft stone and when it's not taken care of, it won't be as gleaming as the first time you set eyes on it.
The 1st and 2nd care method is the same as normal gemstones.
3, After your moonstones are freshly cleaned, the best way to recharge their energy is by the light of the moon. Simply leave the gem outside under the moonlight and let the moon do its work. (a full moon is best). If you're worried about removing negative energy that the moonstone may have absorbed, you can always use burning sage or incense to smoke away any negative energies.

How to Care for Opals:
The amount of water in opals will fluctuate over time based on factors like humidity, heat, sweat and contact with water. When an opal gains or loses water, its color will change. This isn't necessarily a bad thing, and sometimes this subtle color change can make the opal look even more beautiful (and certainly lends to the stone's mystique). But you do want to take care not to change your opal's water composition too much.
Here are the tips:
1, Never fully submerge your opal in water. Minor fluctuations in the water composition of your opal are fine, but you never want to fully submerge your gem in water. Take your opal jewelry off while showering, washing your hands, swimming, cleaning, etc.
2, Avoid exposing opals to either extreme darkness or excessively bright light. Think of the stone as a houseplant requiring the utmost balance of elements to retain its natural beauty.
3, Store your opals in a sealed container. This will help regulate humidity and reduce changes in color due to fluctuation of humidity in the air.
4, Never use chemical cleaners. Opals should only be cleaned with warm water (and never exposed to harsh chemicals, even cleaners). Our favorite method is to dampen a soft cloth and gently rub the stones.
How to Care for Pearls:
The pearls are attached to the setting with glues. The smallest, the easier the pearls fall out. Pearls are organic, they will expand and come loose when they are immersed in water or in high temperature. Especially from rings, since they are often getting hit, bumped, knocked around by accident.
120 1. Last on, first off - This is the golden rule of pearls care. Always put your pearls on last, after getting dressed, applying perfume, make-up, lotions, and hairspray or hair products. Also, always remove your pearls first before getting undressed.
2. Before putting your pearls away, wipe them with a soft chamois cloth to remove oils and perspiration.
3. Do not wear your pearls if the string is wet. A wet string can stretch and detract from the beauty of the necklace. A wet string can easily absorb dirt or grime, which will be nearly impossible to remove, so be sure to wait until the string is completely dry before wearing your pearls.
4. Avoid wearing pearls with clothes made of rough fabrics or threads that can become entwined with the string. They may cause scratches and create difficulty removing fabric fibers enmeshed with your pearl necklace.
5. Do not wear your pearls in the pool, bath, sauna, or shower. Pearl jewelry should never be submerged in water. Keep in mind that pearls mounted on rings are normally glued to a post. Even though water won't destroy the pearls, it will dissolve the glue, ultimately causing risk of loss.
6. You should remove your pearls before engaging in sports or exercise to avoid exposing your pearls to perspiration or risking the chance they will break.
7. You should remove your pearls before going to bed. Do not sleep in your pearls. The string can become weakened and strained increasing the risk of breaking.
We're reputable jewelry designers and can offer Certificate Of Authenticity to you.
This Certificate Of Authenticity states that the jewelry is original and made by our jewelry maker on the certificate. It is issued by our studio confirms that the item is an authentic piece. It includes information about the materials used in its construction: Metal type, Gemstone's 4C(carat,clarity,color,cut), Jewelry weight etc...