Morganite Rings, The Pink and Stylish Gemstone You'll Love Instantly
Any time fine jewelry is mentioned, most people's mind instantly points to diamonds. However, there is a whole world of precious gemstones that adorn our personal ornaments. Morganite is one such name. At first, it seems like a strange name. It doesn't quite sound romantic, but at first sight, morganite's beautiful and sparkly pink shades will leave you enchanted.
Discover all there is to know about morganite, its origins, composition, and what to look out for when trying to buy a morganite ring in this post. Willwork Jewelry hope that by the time you finish reading this, you will be absolutely sure that Morganite is your next piece of fine jewelry.
Having said that, let's dive in…
What Is Morganite?
Morganite is a semiprecious gemstone from the beryl family of gemstones. It is closely related to other members of its family like emerald and aquamarine. While pure beryl is colorless, morganite's pink color is derived from manganese impurities in the crystal's structure. However, the stone does not have any inclusions, which gives it its clear appearance. Because of its alluring pink hue, it is often associated with love and romance.
The Origin of its Name
Morganite was first discovered in Madagascar in 1910. Though the gemstone is believed to have appeared earlier in California but wrongly identified as another gemstone. Morganite was named after renowned financier and gemstone collector J.P Morgan, who was also Tiffany & Co.'s best customer. 
Morganite, much like emerald and aquamarine, occurs mainly in rocks that contain large crystals, also known as igneous granitic pegmatites. In the past, finding high-quality morganite was extremely difficult, but today, they can be found all over the world, with the US, Russia, and Madagascar, the world's best sources.
Why Did Morganite Become So Popular?
Morganite's rise to popularity is not very straightforward. When Morganite first entered the jewelry market in the early 1900s, it did not catch on with jewelers. But in the last few decades, and with the advent of the internet, it has grown in popularity with a rising number of searches on Google and other search engines year after year. Morganite has become so popular that today, it is the lovely pink gemstone that draws close comparison to diamond and the third most popular engagement ring stone that is not diamond.
So Why is Morganite Special for Engagement Rings?
Unlike the highly-priced diamond, morganite is cheaper and closely resembles pink diamonds as well. It is of very high quality, having almost no inclusions or fractures. What can be better than having diamond's close cousin for a fraction of the cost?
Again, it draws a similar comparison with diamond for its hardness. It has a Mohs hardness of 7.5 to 9.0, only surpassed by diamond, ruby, and sapphire. Morganite is also very durable due to its lack of inclusions, which makes it a great stone on jewelry for everyday wear such as engagement rings.
Morganite's pink pastel color is an instant head turner and goes well with current trends.
With the increasing popularity and demand for rose gold, so also has the demand for complimenting gemstones, and experts say morganite is one of few gems that looks best with rose gold.
Is Morganite A Good Choice For Engagement Rings?
As we've said already, morganite makes an excellent alternative to diamond. Like diamond, this gemstone can be cut and faceted similarly. It always features a bright, enchanting sparkle and a captivating brilliance that your love would be proud of.
Because of its low cost and high quality, buyers can choose even larger and more impressive rings while not shooting over budget. At first glance of a morganite engagement ring, people might think you went on a heavy splurge but that's not the case.
Is Morganite A Good Choice For You?
The decision of whether Morganite is what's right for your engagement ring depends on you and your partner's preference. But practically, all the evidence points to Morganite being an easy pic. A high-quality gem that is great on the eyes, not expensive, and is sure to last a long time. What's not there to like?
If morganite tickles your fancy, then we say yes, morganite is the right choice for you. Now you can show your loved one that she really is the perfect one for you with a seal of approval - a morganite engagement ring.
Shop for morganite engagement rings and enjoy these pink gemstones and their stunning beauty!
#1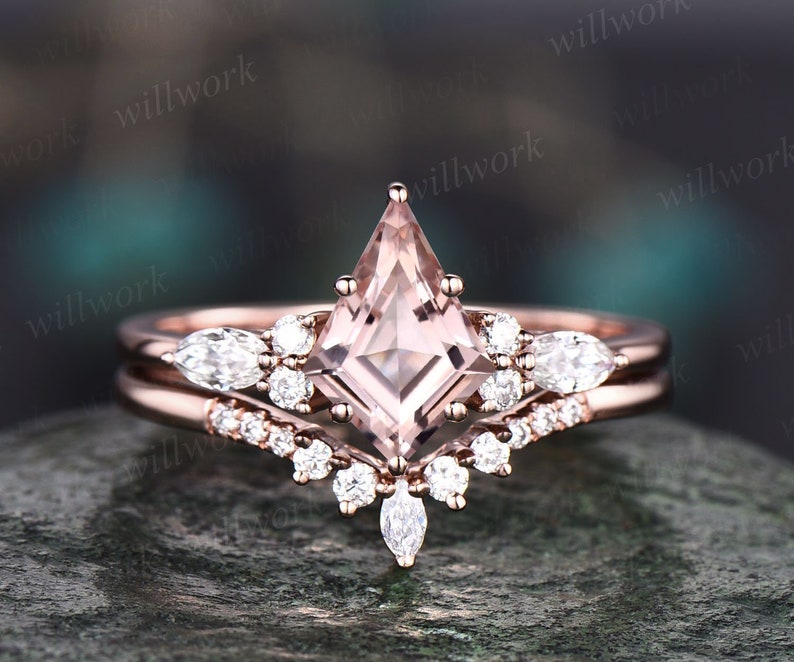 Vintage kite cut 1ct pink morganite engagement ring set $364
#2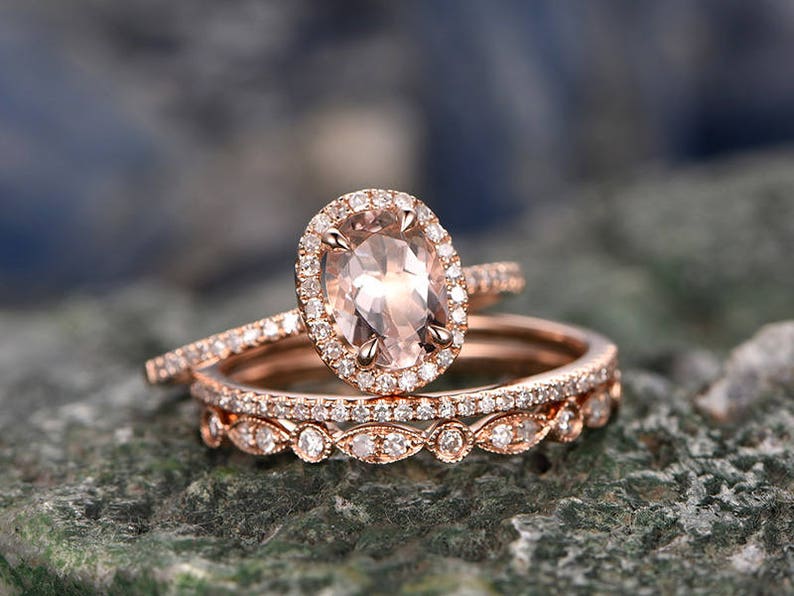 3pcs 6x8mm oval pink morganite engagement ring set 14K rose gold $1754
#3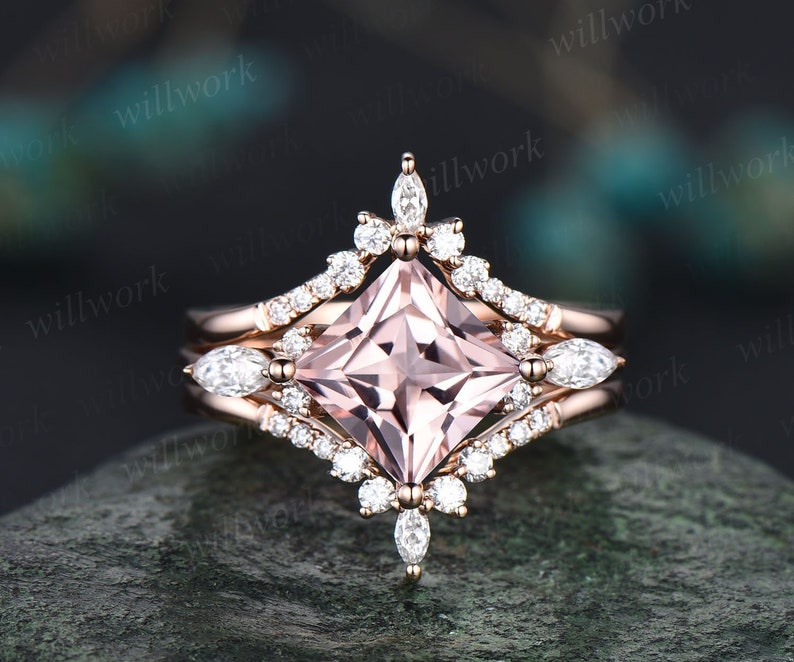 Vintage Princess Cut Morganite Engagement Ring Set
#4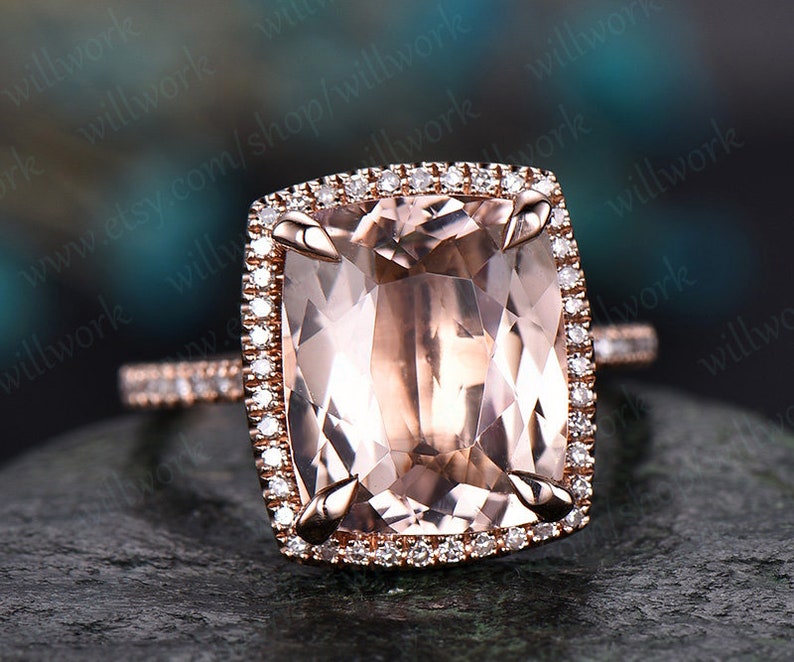 10x12 Cushion Morganite engagement ring
#5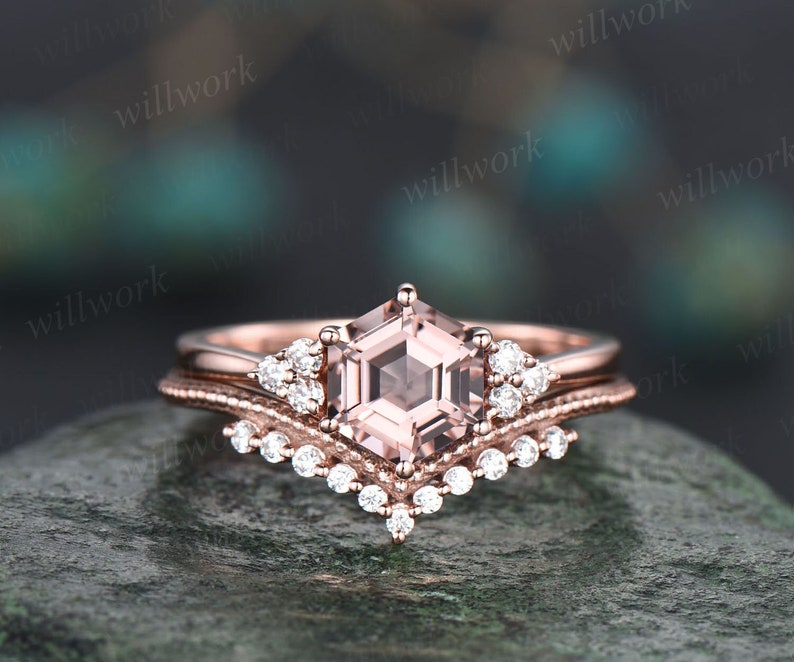 Hexagon cut pink Morganite engagement ring set for women
#6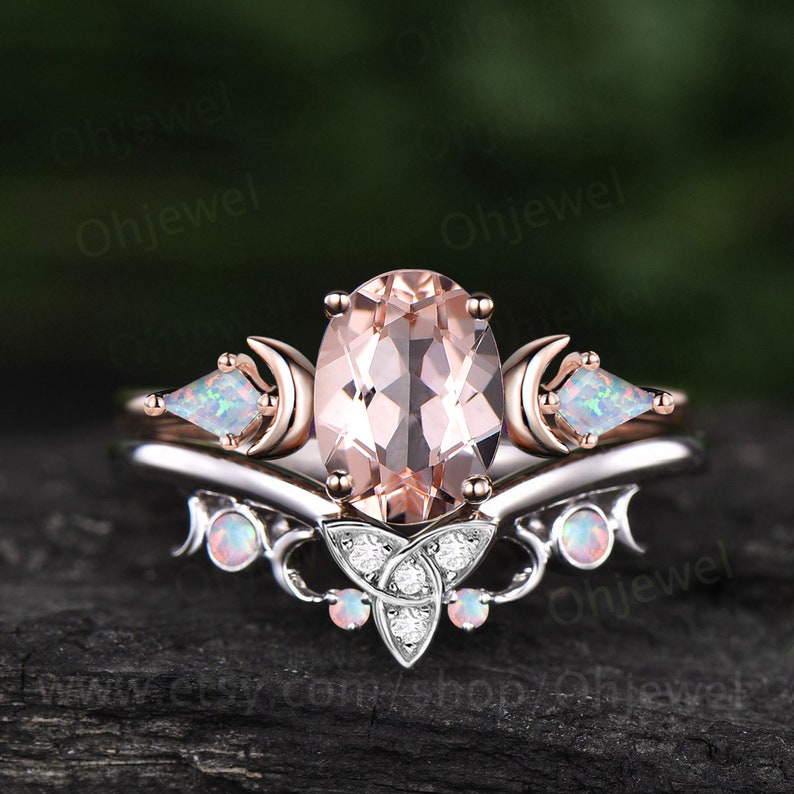 Vintage oval morganite engagement ring set Moon kite opal ring 
#7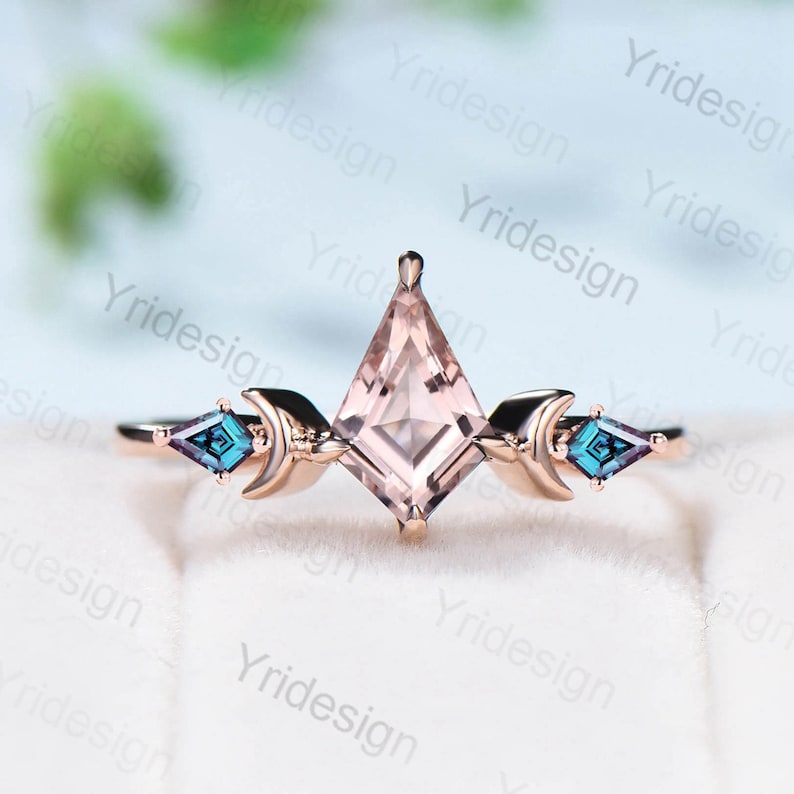 Kite Cut Morganite Engagement Ring With Alexandrite
#8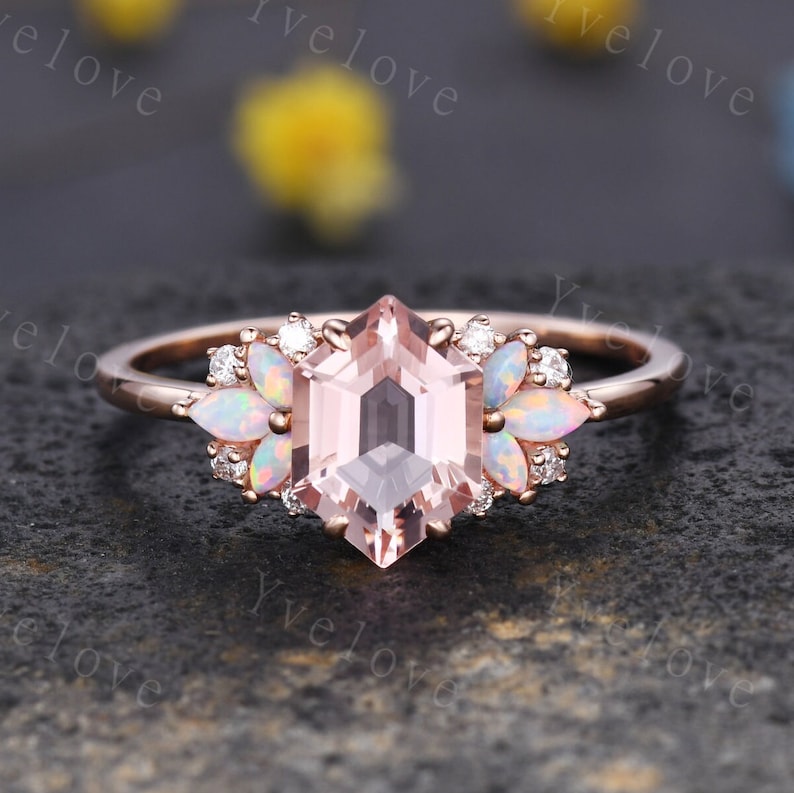 Hexagon Morganite Opal engagement ring
---