Gone are the days when diamonds are your only choice for engagement rings. After all, all couples are getting diamond rings, so why not try something new and unique, right?
If you want to express your love and commitment in the most special way, and set yourself apart from other couples, here are birthstone engagement ring ideas for every month that you might want to consider:
Garnet Engagement Rings for January
Garnet with its stunning fiery appearance comes in a range of colors, from red to orange, pink, and green. Most garnet stones today boast a flaming red hue, the perfect symbol of the passion for love and life.
                       Vintage kite cut red garnet engagement ring set
                                            $215.20  Shop Now
Amethyst Engagement Rings for February
Amethyst is a semi-precious stone that is a quartz variety. Just like garnet, there are several shades of amethyst stones. However, its shades are only limited to violet. Even though amethyst doesn't have the same level of durability as diamonds, these stones are cheaper and entrancing.
                  Hexagon cut leaf twisted Amethyst engagement ring
                                   $143.20 USD Shop Now
Aquamarine and Bloodstone Engagement Rings for March
Those born in March have two options when it comes to engagement rings, and these are aquamarine and bloodstone. Bloodstone is the darker option that is often deep green with orange or red spots. On the other hand, aquamarine is a lighter option with greenish-blue color.
                      Pear shaped halo aquamarine engagement ring set
                                        $319.20 USD Shop Now
Diamond Engagement Rings for April
This is the month when diamonds are forever. This glamorous and sturdy stone is your best choice, and you don't even need to be torn apart because diamonds will surely make your engagement ring stand out even more.
                               Antique vintage diamond wedding ring
                                            $324.00 USD Shop Now
Emerald Engagement Rings for May
For the past several years, emerald engagement rings have become popular simply because they are elegant. Their rich and deep green color is delicate, bold, and royal all at the same time.
                    Oval emerald engagement ring set white gold halo
                                               $912.00 USD Shop Now
Alexandrite Or Moonstone Engagement Rings for June
If you were born in June, you are fortunate to have three birthstones of your own. June is one of only three months that has three birthstones ( , giving you a variety of beautiful birthstone options. The birthstones for June are pearl, variscite and moonstone.
                Vintage Alexandrite moonstone engagement ring set kite cut
                                             $148.80 USD  Shop Now
Ruby Engagement Rings for July
Ruby is yet another well-loved gemstone thanks to its bold appearance, with colors ranging from reddish-brown to deep dark red. This stone is perfect if you are looking for an engagement ring that will last a lifetime because it ranks second next to diamonds as far as durability is concerned.
                                         Oval garnet engagement ring set
                                                  $1,139.00 Shop Now
Peridot Engagement Rings for August
Peridot is a majestic bright green stone that symbolizes good health, peacefulness, and compassion. These stones are known for their calming ability and bring an amazing sense of renewal to the wearer.
         Halo Diamond emerald cut peridot August birthstone ring
                                           $611.00  Shop Now
Sapphire Engagement Rings for September
Sapphires are similar to aquamarine but with a darker hue that is Prussian blue, royal blue, or deep blue. This is also recognized as a royal stone because it is used for the royal family's engagement rings.
                        3pcs sapphire bridal ring set princess cut 
                                  $1,499.00 USD  Shop Now
Opal Engagement Rings for October
Opals are a symbol of creativity and faithfulness. These stones are known for their soothing aura and iridescent soft colors. These are available in a variety of colors including pinks, whites, blues, and browns.
               Dainty vintage opal engagement ring leaf flower
                                       $152.00    Shop Now
Topaz Engagement Rings for November
Topaz is often mistaken for aquamarine because of its similar colors. However, these stones differ in terms of hardness, ranking 8th on the Mohs scale. This is also more durable than aquamarine.
                    Unique London blue topaz engagement ring set
                                          $338.40  Shop Now
Turquoise Engagement Rings for December
Turquoise engagement rings are stylish with striking shades of blue and green that are a classy and standout choice.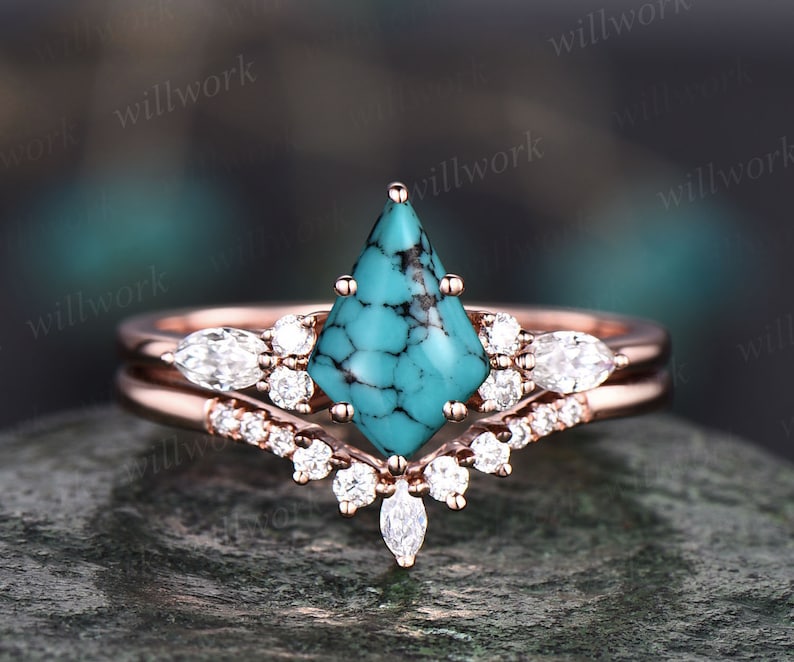 Vintage kite cut natural Turquoise engagement ring set 
                                                     $230.40