How Do You Combine Engagement Ring And Wedding Band?
As your big day draws close, your engagement ring will be the center of attention, but just as important as your wedding jewelry is knowing how to pair your engagement and wedding band. After all, your wedding band is what signifies that you are transitioning from engagement to becoming married, and just like your engagement ring, you are going to be wearing this for the rest of your life. You have your engagement ring, now here are tried and true options for perfectly matching your engagement ring and wedding band.
Solitaire Engagement Ring Paired With Curved Wedding Band
The best kind of wedding band to pair with a solitaire engagement ring is a curved wedding band. This style fits suitably into this engagement ring, framing it and making it appear larger by making it sparkle and look wider. A similar wedding band is a notched wedding band. Rather than curving around the outside of your engagement ring, there is a small dip in the center of the band that lets it sit flush beneath the center stone. To get the best sparkle, add a curved wedding band to both sides of the engagement ring for a spectacular trio.
                            Kite cut moissanite ring set $479.2 shop now
Marquise, Oval, And Pear-Cut Engagement Rings Paired With Chevron Wedding Band
When it comes to engagement rings, marquise, oval or pear-cut stone is a guaranteed conversation starter. These engagement rings make a chevron wedding band, which is a v-shaped, pointed band that mimics the fashion-forward feel of these styles. Combine this band with pear cut rings in a way that one nestles over the other or turns it around such that the "V" faces outwards.
                        2pcs Alexandrite bridal set $721.6 shop now
Halo Setting And Three-Stone Engagement Rings Paired With Pavé Wedding Band
One of the best ways to pair your engagement ring with a wedding band is a pavé style. If you are looking to achieve maximum sparkle status, this is a great option to go for. If you are not sure which wedding band to go for, pavé styles make a great choice for most ring types.
              Oval cut emerald engagement ring set $854 shop now
Oval-cut engagement ring Paired with twisted or beaded wedding band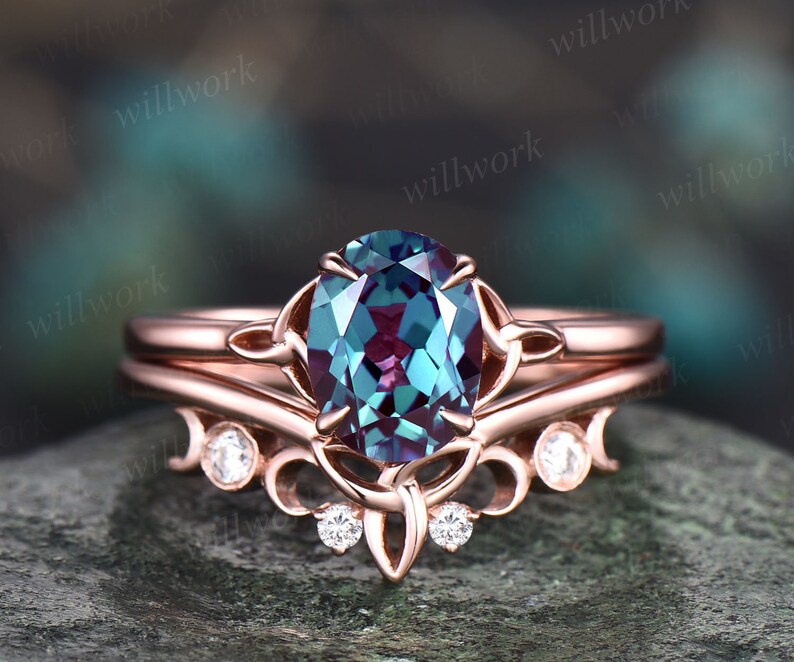 A twisted wedding band for an oval engagement ring is a unique style that does well in enhancing the modern vibe of the diamond shape. You can pair your oval-cut engagement ring with one wedding band or create your own ring slack with several wedding bands for a standout look.
Simple And Channel-Set Engagement Rings Paired With Channel-Set Wedding Band
Create a sophisticated matching pair with channel-set wedding bands if you have an engagement ring with a channel setting. You can add more bling to your engagement rings with plain bands with channel-set wedding bands.
Bezel-Set Engagement Ring Paired With Flat Wedding Band
A flat wedding band that is unembellished makes for a great match with an engagement ring with a bezel setting. This band gives a great look sit flush under the engagement ring's raised stone, which makes it the best option for active brides or seeking a minimal look.
Emerald, Princess, And Asscher-Cut Engagement Rings Paired With Baguette Wedding Band
This one is for the glam bride. The eternity wedding band screams opulence, and that is why it is the most suitable wedding band for emerald cut engagement rings. The eternity band typically has stones going all around the band (the band is named eternity as it has no beginning or ending) and can feature different elegant cuts such as emerald, asscher, and princess cuts. Choose a band with baguettes of the same shape as the engagement ring main stone.
All Engagement Ring Types Paired With Ring Enhancer
You can use ring enhance or ring guards to create the illusion of wearing two wedding bands, one on either side of your engagement ring. However, in reality, this is just one piece, which has an opening at the center that fits around your engagement ring like puzzle pieces fitting into each other. Enhancers with engagement rings are offered by many jewelers as a wedding set, and you can find ring enhancers on different types of cuts and settings. The best look of enhancers comes when they are worn with engagement rings, so if you are planning to wear only a wedding band for some activities, then you would do well to avoid this style.
---